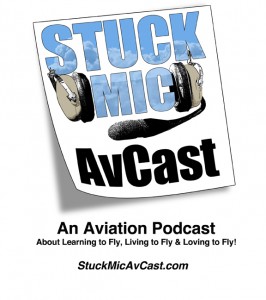 Another day, another show! This episode of the Stuck Mic AvCast brings conversations of what to do when experiencing multiple aircraft system failures, including flight considerations, and adverse aircraft behaviors. We also discuss becoming disoriented with the cockpit layout of a new airplane and even some stories of co-host go arounds and much, more!
Audio clip: Adobe Flash Player (version 9 or above) is required to play this audio clip. Download the latest version here. You also need to have JavaScript enabled in your browser.
Pre-Flight
We've got SWAG for sale! T-Shirts, coffee cups, magnets, etc at StuckMicAvCast.com/buy to get those items today.
The Stuck Mic AvCast is donation supported. Please consider a small donation if you enjoy the show: StuckMicAvCast.com/support.
Cruise Flight
After Landing Checklist
~ Picks of The Week ~
Rick ; AirWX Menulet Mac app ; a scrolling weather app for the Mac header bar
Len ; GoPro Propeller Artifacting Case ; eliminate prop chop, arcing, and artifacting with this camera case
Victoria ; Girls With Wings Scholarships; a list of available aviation scholarships for women and how to apply
Carl; PilotEdge.net; a real-life ATC service for your favorite flight simulator
Virgin Galactic Space Flight Fund
Thanks for listening to the Stuck Mic AvCast, a listener supported aviation podcast. We love publishing and delivering useful content and information for everyone! Please show your support with a $5 or $10 donation today and maybe we could one day fly in space!
Please submit your questions and feedback via blog comments, Twitter, Facebook, or email and we'll be sure to answer them on the air!
Listen to Episode 25 Below
Audio clip: Adobe Flash Player (version 9 or above) is required to play this audio clip. Download the latest version here. You also need to have JavaScript enabled in your browser.
CLICK HERE to play mobile friendly version
Subscribe to Our Enhanced Podcast Feed in iTunes
Subscribe to Our MP3 ONLY Podcast Feed
Direct your pod catcher to http://feeds.feedburner.com/StuckMicAvCastMP3
Or to subscribe in iTunes: