Tiffany from Boca Raton, FL sent me the following question via e-mail:
"Hey Carl!
I have heard you mention the WINGS program. It seems I would need to hold a pilot certificate in order to participate. Is this true? I would love to watch the videos and work through the knowledge, even if I wouldn't get credit for it. "
Tiffany is saving for flying lessons and wants to gain as much aviation knowledge as she can before she begins flying. I applaud her efforts and enthusiasm to get started as soon as possible with her training.
What is The FAA Wings - Pilot Proficiency Program

The objective of the WINGS Program is to address the primary accident causal factors in the general aviation community. The FAA hopes to reduce the number of accidents we see each year for the same causes.
The FAA Wings program is a proficiency program which reminds me of the recurrent training I must complete as an airline captain.  Studies have shown that pilots who participate in the WINGS program are safer pilots and less likely to be involved in an accident or incident.
Anyone can sign up on the FAASafety.gov website and get credit for their activities even if you are a student pilot. Once you get your pilot certificate you will be awarded your basic Wings.
WINGS for Student and Non-Pilots
If you are a non-pilot and want to sign up you can do so but there is limited functionality. I encourage you to get your student pilot certificate.There are two procedures for those wanting a standard medical and student pilot certificate and those who wish to receive a Sport Pilot Certificate. The Sport Pilot Certificate is a wonderful way to get involved in flying at a lower cost and aless hours than the the private pilot certificate.
Sport Pilot Student Pilot Certificate
The Sport Pilot Certificate does not require a medical certificate. To obtain a FAA Sport Pilot Student Certificate you will need to fill out FAA Form 8710-11 but your local Aviation Medical Examiner will issue the student pilot certificate.
To be eligible for a student sport pilot certificate, you must:
Be a minimum of 16 years of age (14 for glider).
Be able to read, write, and understand the English language.
Have a valid photo ID to verify your identity.
Complete FAA Form 8710-11. (pdf file)
Student sport pilot certificates are issued by:
Make sure if you are going to a Aviation Medical Examiner that you let the examiner know you are applying for a "Sport Pilot Student Pilot Certificate". There are many great informational websites concerning the sport pilot certificate. One of my favorites is the Experimental Aircraft Association's Sport Pilot Website.
FAA Medical and Student Pilot Certificate
For those who will be obtaining their private pilot certificate you can obtain your medical/student pilot certificate from your local Aviation Medical Examiner. A list of the Aviation Medical Examiners is available from the FAA Website.
Registering for The WINGS - Pilot Proficiency Program
I encourage all to become involved in this free and outstanding pilot proficiency program. To register go to FAASafety.gov and click on the "Create an Account" button.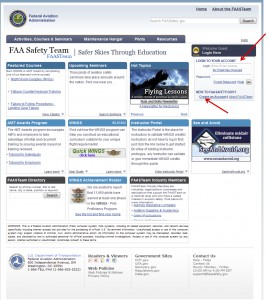 For more instructions on using the Wings website download the  User Guide or go to the Learn More Page on the FAASafety.gov website.
For More Information:
Student Pilot Certificate Requirements - FAA Website
Student Pilot Certificate Procedures for the Sport Pilot Certificate - FAA Website
FAA Sport Pilot Informational Web Page
Experimental Aircraft Association Sport PIlot Website