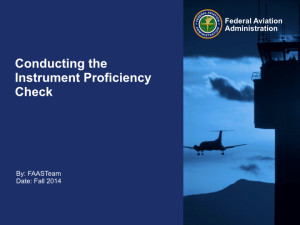 Do you or your instructor know how to properly conduct an Instrument Proficiency Check? Find out how by viewing the slides from the presentation conducted by Dave Bear.
To learn more about free safety seminars and the Wings program please visit FAASaftey.gov. I am a Lead Representative in the Tampa FSO and if you have any questions about participation or earning your Wings please contact by clicking here.
Dave Bear is a Principal Operations Inspector at the Tampa FSDO.  Before joining the FAA Dave worked with Chicago Express Airlines. Dave is originally from Illinois where he graduated from the College of DuPage with a degree in education.
A special thanks to the sponsors of this event National Aviation Academy and their years of  supporting of the FAA Safety program. Visit http://www.naa.edu to learn more about their aviation maintenance programs.
Instructors and Pilots will:
Learn the methods to prepare for an IPC;
Understand the correct procedures and required tasks to complete an IPC in accordance with FAR 61.57(c) &(d)