Podcast: Play in new window | Download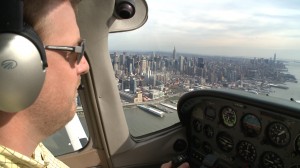 Can you combine your passion for aviation with your passion for writing? The person I have with me today says yes.
If you have listened to this show for any time you know we advocate designing a career to fulfill your passions in life. Both my guest and I have accomplished this goal. I love my job as an airline pilot and my online business of creating content that inspires, entertains and educates. My guest has been able to combine his passion for aviation and writing through becoming an editor or a magazine.
After spending few minutes speaking with our guest you will discover how passionate he is about aviation and his job. My guest today is Ian Twombly. Ian has been able to combine his passions in life and help many folks obtain their aviation goals as editor of AOPA Flight Training Magazine.
Ian and I discuss:
How Ian developed his passion for aviation.
His career path toward editor of AOPA Flight Training Magazine.
How the right job can fulfill multiple passions in your life.
The many writing careers in aviation.
Career advice for those wanting to write in the aviation industry.
How AOPA Flight Training Magazine can help you obtain your Aviation Career Goal.
Links: