Podcast: Play in new window | Download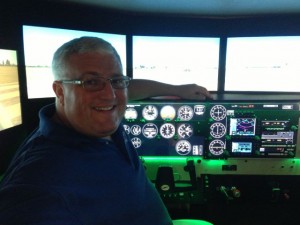 Eric Crump the Aerospace Program Director at Polk State College  is an experienced pilot and has had years of experience helping people achieve success in their aviation career.
Eric and I discuss the following listener mail:
An aviation maintenance student wants to know job prospects for pilots and mechanics.
A 38 year with a family wants to know if age is a factor in choosing a career as a pilot and what his financing options are.
A private pilot wants to know if color blindness will keep him from becoming an airline pilot and what opportunities are available for those that are color blind.
Anissa has some advice for young pilots: "Don't let the effort dissuade you from your goal!"
A  43 year old private pilot asks if a particular type of flying companies like to see in a pilot's logbook?
Do I need to fund my own multi-engine rating to be considered for corporate or charter flying or are there opportunities for single engine pilots out there?
Will a  special issuance medical hurt my chances at an aviation career?
What is  your opinion on the future of civil aviation regarding pilotless aircraft. In the last half decade there have been huge advances in UAV technology and do you think that in say the next 30-50 years we will see the cockpit be reduced to 1 person just monitoring systems or possibly no-one?
Should take a semester off, and go to flight school and while instructing finish my associates online?  
Links Mentioned In This Podcast: 
Polk State Approved to Offer Bachelor's Degree in Aerospace Sciences
Boeing Pilot and Technician Outlook
Episode 006 – Career Prospects Are Good for Both A Pilots And Mechanics, A Panel Discussion with Guests From National Aviation Academy. 
AOPA Article: Answers for Pilots: Color vision
AOPA Article: Color Vision Restriction Removal
Air Surgeon's Medical Bulletin January 2012
PlaneSense - fractional operator of single engine aircraft.
The Golden Age of Unmanned Flight