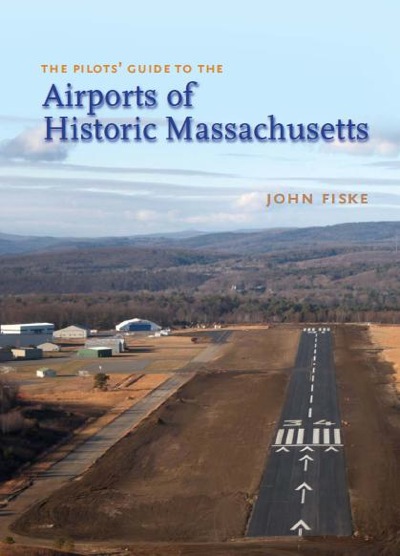 As I traverse this wonderful world by air, I enjoy viewing the many airports below and in my mind imagine the planes taking off and landing. Many times I will pass over an airport with large runways with only a few planes and a small building. Some have the typical triangle shape design made popular during World War II. My imagination takes me to a time when the airport was busy with cadets training to become pilots.
Some times I will write down the airport name from my chart so I can later search for information on the history of those airports that interest me. While flying over Massachusetts I don't need to look far for information because I recently discovered a book "The Pilots Guide To The Airports of Historic Massachusetts" by John Fiske.
I enjoyed John Fiske's guide because it relates the historical significance of the town each airports is located within. Fiske continues by describing the history of the airport and its owners.
Each chapter gives a wonderful historical summary. You will want to use other sources such as the internet for complete histories of the communities, events, and the airports.
In The Pilots Guide To The Airports of Historic Massachusetts you will find a listing for all of the 38 public use airports which includes:
Basic aeronautical data.
A history of the town and any historically significant events.
A history of the development of the airport.
The current owners and a history of the previous owners.

John Fisk's "Airports of Historic Massachusetts is a handy reference for those interested in the history of the public use airports and the communities they serve. I like this book because it highlights the significant historical events in each of the towns giving me some great information for conversation amongst my Massachusetts based aviators. I suggest this book to pilots interested in the aviation heritage of a state rich in American History. At $10.00 this book is a bargain.
You can find this book at :