Podcast: Play in new window | Download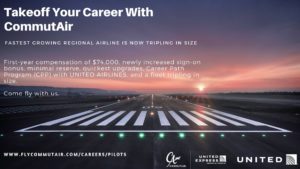 In this episode, we are joined by pilot recruiters from CommutAir. With up to $74,000 in first-year competition and fast upgrades, CommutAir is a great opportunity for pilots who want to advance their careers.
Announcements:
For Upcoming meetups, events, news, and announcements visit our Facebook page
In This Episode We Discuss CommutAir:
Who is CommutAir?
Why CommutAir?
Pilot Qualifications.
How To Apply.
The life of A CommutAir Pilot.
Pick Of the Week: