Podcast: Play in new window | Download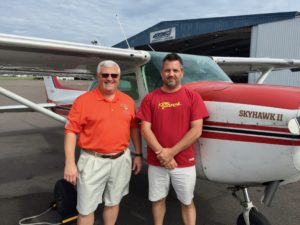 In This Episode, I am joined by Tim Lake who went from high school Vice Principal to Pilot. Tim flew into Lakeland to join me on the podcast. This is my first interview with a guest that has flown in and is one of the great things about living near an airport.
Announcements:
Keep watching our facebook page for upcoming events and updates. I had to go to work on the 4th so I was not able to make the pancake breakfast at Bartow Airport but I will be at the AOPA Fly-In in Tampa, FL. Hope to see you there. For more information visit AOPA.
From Vice Principal to Pilot:
How Tim went from Vice Principal of a High School to a flight instructor in a very short time.
Making money as a flight instructor.
Working as a drone pilot to supplement his income.
How Leasing back an airplane to the FBO has helped him obtain his ratings and increased his income.
Tim can be found on http://facebook.com/lakeaviationfacebook.
Pick Of the Week: