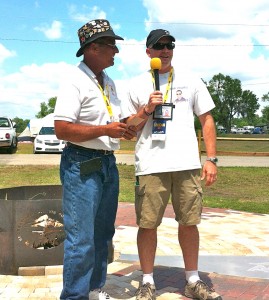 The man stood atop an expansive front porch gazing upon the large tarmac full of airplanes but not focusing on any one object. I knew he was not looking at the planes but was staring into the past. This man's most prominent feature was his dark fedora covered with colorful buttons, many of which were from Sun N Fun.
My curiosity got the best of me so I walked over with outstretched arm and said "Hi my name is Carl. Are you here for the meetup?". He responded "Hi, my name is Dave". Looking up towards his hat I said "Nice hat. Seems like you have been to Sun N Fun a few times". I was hoping my statement would open a conversation about flying, little did I know that a friendship would build as we discussed a common passion for one of aviation's most wonderful events, Sun N Fun.
Dave Shallbetter has been a voice of Sun N Fun Radio since the station's inception in 1995. Dave personifies volunteerism and is a shining example of why Sun N Fun is the definitive aviation event marking the beginning of the airshow season.
An army of volunteers led by key individuals such as Dave Shallbetter is why Sun N Fun has been a success. For a whole week Dave is tethered by an imaginary leash to the deck of Sun N Fun radio. If he wanders too far from the station it is inevitable one will hear someone shouting his name in need of some advice or direction.
Dave's electrifying personality and perpetual energy makes him the perfect fit for the position as chairman of Sun N Fun Radio. But Dave's duties don't end after the live show. The radio station is up and running all year with interviews replayed from the annual event. On occasion new material is released. If you couldn't make the air show, and would like to hear one of the hundreds of fascinating interviews, or wish to reminisce about the event, make sure you tune in at Sun N Fun Radio and listen to the stream Courtesy of Live ATC.net.
Honoring Dave's Mother At The Fire Hub
Dave comes from a family of aviation enthusiasts and pilots. Dave's mother Ione Shallbetter-Stiles is the original co-chairwoman of Sun N Fun radio and was instrumental in running the station from 1995 until 2004. Ione has since 'flown west" but her legacy continues through Dave Shallbetter's volunteerism.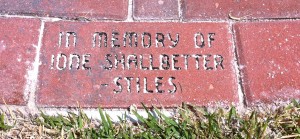 It was a fitting tribute to Dave Shallbetter when a number of volunteers of Sun N Fun donated a brick on behalf of Dave's mother Ione Shallbetter-Stiles at the Recreational Aircraft Foundations's Fire Hub. The proceeds the donation goes towards supporting advocacy and conservation efforts for backcountry airstrips.
One of the reasons Dave Shallbetter was chosen to run Sun N Fun was his ability to speak continually for hours which is key to a live radio broadcast. But today was different. As Dave was presented with the brick honoring his mother his voice cracked with emotion and the only words to be heard where "thank you". Those of us who have come to know Dave expected to hear a speech. However today the silence spoke louder than words.
To see the video of Sun N Fun Day 6 including the laying of the brick in honor of Ione Shallbetter-Stiles; go to Other Peoples Airplane's or press the play button on the video below.
For More Information:
How To Listen To Sun N Fun Radio.
How To Donate a Brick At Sun N Fun In Support Of The Recreational Aircraft Association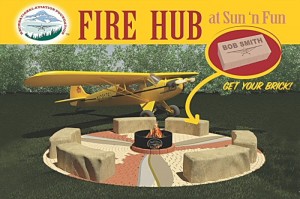 'Fire Hubs' to dot country, protect remote airstrips

Together We Are Strong : Reflecting On A Decade Of Volunteerism