Podcast: Play in new window | Download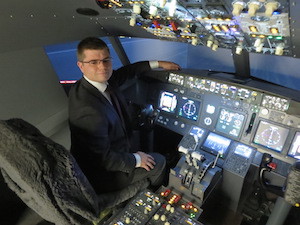 Welcome to episode 89. My guest today is Chris Pezalla. Chris passion for aviation started at a young age with him obtaining a commercial pilot certificate at the age of 18. He studied Aeronautical Science at Embry-Riddle Aeronautical University while working as a flight instructor. After college, he worked for a large Regional Airline. His flying experience includes 5500 hours in airplanes and over 1300 hours as an instructor.
The aviation industry is cyclic with with a few dramatic downturns. Today we discuss how Chris implemented a creative approach to surviving an aviation downturn. I'm sure you will find his story inspirational and informative.
Today Chris and I Discuss:
His Early life as a pilot and why he loves aviation.
His path to the regional airlines.
The downturn in the airline industry.
How he turned lemons into lemonade
What Chris did during his leave with the airlines.
Law Degree, Masters, Books, Speaking, and more.
Where he is now and where he is going.
Advice on how to prepare for a furlough or downturn in the airline industry.
Why you should prepare now when things are going well.
Scholarship of the Week:
Aero Club of PA: Pre-Solo Scholarships
Links:
Advanced Guide to Holding Patterns