Podcast: Play in new window | Download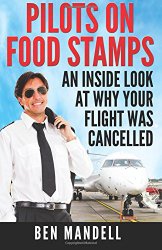 Welcome to Episode 84. The goal of this podcast is to inform, entertain, and motivate you to achieve your career goal. We to bring you the viewpoint of all those involved with careers in aviation and aerospace.  Although we primarily focus on the positive aspects of a career in aviation and specifically as an airline pilot we also know that we must represent the challenges of choosing a career in aviation.
To help you understand some of the challenges concerning salaries in the piloting career I have with me Ben Mandell author of Don't Pay Any Flight School More Than $2500 In Advance: The Censored Information The Bad Guys Don't Want You To Know and Pilots on food stamps: An Inside Look At Why Your Flight Was Cancelled.
You can find his book by clicking here or going to AviationCareersPodcast.com/foodstamps :
Ben and I discuss:
Why You should not Pay more than $25000 in advance to a flight school.
Scholarships to watch out for.
Ways to save money on flight training.
Why Flights are being cancelled.
How pilots are paid.
How the shortage of pilots is affecting salaries.
How the shortage of pilots affects the Majors.
Upgrading and Pay.
What he feels is the solution.
Scholarship of the Week:
Buckingham Memorial Scholarship-Air Traffic Controller's Association (ATCA)
Average Award for all ATCA scholarships $6454.54
The Buckingham Memorial Scholarships are awarded to children of Air Traffic Controller Specialists who are US Citizens and enrolled half- to full-time in a program leading to a bachelor's degree or higher.
Links:
Bureau Of Labor Statistics Occupational Outlook Handbook - Airline and Commercial Pilots
Sun N Fun Radio on LiveATC.net
Alumni from these colleges (almost) always pay their debts