Podcast: Play in new window | Download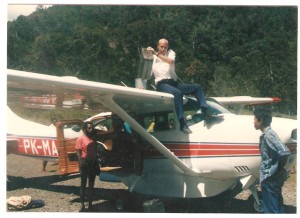 Welcome to Episode 78. Aviation is a challenging and rewarding career. Some want to fly for the airlines and others seek a challenging flying environment dedicated to helping others. Many listeners have written me and feel Mission Aviation Fellowship would fulfill your need to serve others while living the dream of being a "bush" pilot.
Today I have with me Ron Hilbrands from Mission Aviation Fellowship. Ron is the manager of recruiting for MAF where he is responsible for six other recruiters to meet the organizations overseas needs.
We have all seen the exciting videos of flying in the bush bringing food, water, and supplies to those in need. Although we see these exciting videos, we must realize that there is much preparation before an airplane even leaves the ground. Ron is here to discuss how to launch your career with MAF and to explain the many fulfilling jobs at MAF which allow this large organization to function.
Ron and I Discuss:
The rewards of mission flying.
The goals of MAF.
Why you should choose a career flying for MAF.
The challenges of flying as a mission pilot.
Pay and living conditions.
How to prepare for a career with MAF.
The various jobs at MAF for the non aviators.
Links: