Podcast: Play in new window | Download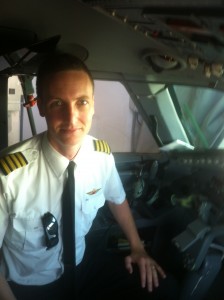 Many of us dream of flying for the airlines as an airline Captain and have a passion for teaching. There is a job that fulfills both your dream of becoming an airline pilot and your passion for teaching. That job is airline check airman and I have with me someone who has recently achieved this goal.
Robert Guyer is an airline Captain who recently became a check airman. Rob will describe his aviation journey and how he was able to reach his goal of becoming an airline check airman. He also will help you understand the process of becoming an check airman and how to prepare now to become a check airman.
Robert and I Discuss:
Robert's passion for flight which started at a young age.
His progression to the left seat of the EMB145.
His progression to check airman.
The different types of check airman roles at an airline.
Why you need to start preparing now to become a check airman.
The characteristics of a check airman and how to develop them.
General advice for those wanting to become an airline check airman.
Scholarship of The Week:
Chuck Freeland Memorial Scholarship
Since its inception, the AEA Educational Foundation has awarded more than $1.5 million to students seeking careers in the aircraft electronics and aviation maintenance industry, as well as technicians from AEA member companies.