Podcast: Play in new window | Download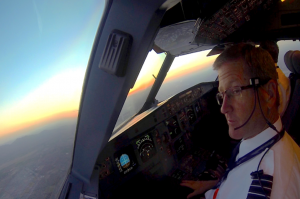 I am excited to have with me someone who is truly passionate about aviation and will be able to help answer many of your questions concerning various flying jobs. One recurring question I receive from you the listener is this: "are you still passionate about aviation even after many years as an airline pilot?". To help us answer this question and many more is
Cap'n Aux
.
Eric is an airline pilot by day, writer by night, and kid by choice. Never one to believe in working for a living, Eric's past list of occupations include: Alaska bush pilot, freelance writer, mural artist, and Captain for a Caribbean airplane operation. He is now a captain for a major U.S. airline flying the Airbus A320.
Eric and I Discuss:
Flying the world as an A320 Captain.
Flying as an Alaskan bush pilot.
Advice for those interested in a career as a bush pilot.
Flying as Captain in the Caribbean.
How to keep the passion for aviation alive!
Eric's passion for blogging and writing.
Links:
Eric Auxier On Amazon
"The Last Bush Pilots" made Amazon's Top 100 Breakthrough Novels last year!


The Last Bush Pilots