Podcast: Play in new window | Download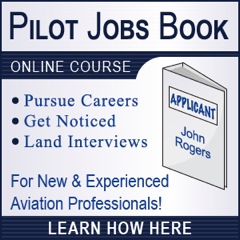 Welcome to Episode 44 of the podcast where we help you achieve your career goal. Today I have with me a frequent co host, Tom Wachowski, who is a corporate pilot and creator online media. Tom is going to help me answer listener mail and also describe a tool he has created to help you land a job and stand out amongst the competition.
Listener Questions:
I may not be getting much IFR time but doing surveys at altitudes from 1,000 - 20,000 feet flying precise lines is great training for stick and rudder as well as weather knowledge. Is the time and experience I am getting now are continuing to increase my value as a pilot?
With the new ATP training requirements coming next summer would I be smart to go ahead and spend the money to go get my ATP before the rules change? I love introducing people to flying and have thought about getting my CFI to be able to instruct on the side but I don't have the cash to do both. Should getting my ATP be my priority?
What are your thoughts on air traffic controller jobs at contract towers?
I wonder if you know of any scholarships, grants or loans that are specifically for people not associated with a college?
I have a bachelors in Aerospace Engineering and I was wondering if the airlines/pilot employers look differently on someone with an ATP restricted certificate?
What would be the best aircraft type rating to start off with if I would like to be a corporate pilot with interest in the airline industry?
From: Andrew
How important is the multi-engine rating?
What schools are available for pilot training outside the U.S?
Success Story:
A listener relates how he took advice from a previous guest of the podcast and obtained his ground instructor ratings and partnered with a local flight instructor. He is now making money and working towards his flight instructor certificate.
Links Mentioned in this podcast:
ACP029 – Flying As Captain For A Major Airline With Jeff Nielsen Of The Airline Pilot Guy Podcast