Podcast: Play in new window | Download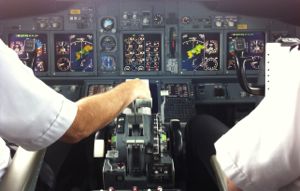 Welcome to Episode 32. I hope you enjoyed the last two episodes full of interviews from  the 2013 Sun N Fun Fly-In and Expo in Lakeland, Florida. I enjoyed interviewing these passionate people as they talked about aviation careers.  If you really want to hear some motivating interviews of some truly inspirational aviators make sure you listen to episode 30 and 31.
Iin today's episode we are going to catch up on some of the past questions.  Included in this episode is a short interview with Alan Lawless a flight test engineer who I interviewed in episode 22. He will help us answer one of our engineering questions.
 Today I have with me a frequent co-host on the show Tom Wachowski. Tom is a corporate pilot and former airline pilot who brings a unique perspective to this podcast. Before we begin lets catch up with Tom and some of the interesting flying he has done in the past few months.
Listener Mail:
From Todd:
 I am 37 and can retire from law enforcement in 5 years. I am looking at starting a career in aviation. I will be 42 when I can retire. Would it be possible for me to start now and make a career in aviation at least flying regional or cargo?
From Jesus:
 Jesus is a air traffic controller with questions about jobs in the United States compared to Europe.  Jesus also wants to know if we can recommend large flight schools and online training.
From Brian:
 Brian started flying while he passed the bar and wants to discuss options on how he can meld the two careers of flying and law.
From John:
 Would a flight school look askance at someone who took such a long time to learn how to fly? How about "real flying" jobs? Are they looking for pilots who completed their primary training as close to FAA minimums as possible? 
From Tim:
What would you recommend in terms of getting my pilot training and a college degree. Should I do one or the other first or both at the same time?
Tim also would like us to compare and contrast the training experience from a big flight academy to the training received from an individual instructor at a smaller school.
Question From Junior:
 In Episode 27 we had a question from Junior concerning changing careers from a Designer to Engineering .
 From Jonathan:
Am I too old to become a professional pilot?
What pilot ratings would I need to become a UAV pilot?
How would you suggest I go about my career?
From Carlos:
I am currently a student pilot, but I am within days of taking my check ride.
Would it be possible to do some charters part time?
If so what are some things that I should start looking into?
Thanks for listening to Aviation Careers Podcast. Your questions are important to us and if you have any questions comments or suggestions there are many ways to contact us. You can simply click on the Contact page on our website - AviationCareersPodcast.com or submit a questions via facebook or twitter.  You can also leave us a voicemail at 347-MY-WINGS, 347-699-4647.
 If you found this information useful please rate us on iTunes so others can find us.  Remember to always keep focused on your career goal but be ready for many challenges because those challenges will define who you are in the future. The challenges are the process through which our resolve is hardened like steel.  Keep focused on your goal because I have faith you will achieve it.
Talk to you next episode and Safe Flying!
Links Mentioned in This Episode:
Taking Advantage Of The Pending Pilot Shortages
Sun N Fun 2012 Interviews Look for the interview Restored Champ to hear the interview with an aviation attorney.