Podcast: Play in new window | Download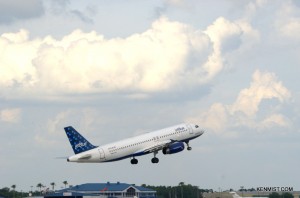 Welcome to Episode 30. This is the podcast where we give you an inside look at aviation careers. I am excited to be speaking with you today for two reasons. First, I have completed my training on the Airbus A320 and am able to focus on bringing you inspirational and educational content on a more frequent basis.
Second, I just returned from Sun N Fun 2013 and was able to visit with numerous people inside the aviation industry who are truly passionate about their careers.  In the next two episodes I will be sharing many inspirational and informative interviews which describe various aviation careers. I think you will enjoy them. One of my favorite interviews is at the end of this show with a surprise guest. I hope you will enjoy these interviews as much as I enjoyed speaking with these truly wonderful aviation enthusiasts.
Before we begin, I  appreciate all the feedback I have received from you the listener and I appreciate how this podcast has become a part of your weekly routine. Your feedback and questions are very important to me and I will include the answers in an upcoming episode. With that said if you do have a question please feel free to contact me and I will answer them on an individual basis before putting them on air. It is important to me that you have your aviation careers questions answered in a timely manner.
Remember to go to AviationCareersPodcast.com and click on the contact page.  You can also call in your questions at 347-MY-WINGS or 347-699-4647.
If you want to hear about my experience in obtaining my A320 type rating at the airlines I would encourage you to listen to The Stuck Mic AvCast Episode 43. I relate both my experience in obtaining the type rating and explain the process of obtaining a type rating.
Sun N Fun:
SUN 'n FUN's mission is to preserve and enhance  the future of flight through world-class events while inspiring and educating people of all ages.
The many year round educational opportunities include:
Summer camps to interest students in aerospace science while including much of the history and art of aviation.

Science, Technology, Engineering, and Math programs including summer, weekend, holiday, and online programs. Their program is named STEMtastic and include programs for ages 7 through 14.

Future Eagles Aviation Club which allows students to meet on a regular basis and explore the many fields in aviation.

Lakeland Aeroclub which actually teaches high school students how to fly. This program is made possible through the partnership of local businesses in Polk County and through dedicated flight instructors.

School tours of the Museum Of Flight tailored to your group's specific goals and needs.

On a per request basis provide docents and teachers to visit schools and discuss development of STEM programs in your school.
Intro To Interviews:
Again, this episode contains inspiring interviews which all who are interested in a career in aviation will enjoy. In these interviews we discuss many aviation career fields including : commercial airline pilot, flight instructor, mechanic, engineer, and management.
Most of the volunteers at Sun N Fun Radio represent many podcasts. In my case I was representing The Stuck Mic AvCast:  an aviation podcast about learning to fly, living to fly, and loving to fly. I encourage you to  listen to at StuckMicAvCast.com.
One quick disclaimer before we begin listening to these amazing aviation advocates. In some of these interviews I speak with my fellow crew members from my job as an airline pilot. I am very proud of my employers contribution to Sun N Fun and aviation careers but would like to clarify that I am not a representative of my employer and the comments and opinions during this show are my own and do not reflect those of my employer.
Now with that said, lets get started listening to some of these wonderful discussions. Since there are many interviews and much information related during this episode I highly recommend you refer to the extensive show notes at AviatoinCareersPodcast.com Episode 30.
In this episode I discuss:
Sun N Fun Fly In At Lakeland, FL

Year Round Educational Opportunities at the Sun N Fun Campus

Inspirational interviews including many aviation career paths  On Sun N Fun Radio.

Listening to Sun N Fun Radio Year Round.

Should you transition from a regional to a major airline?

Stuck Mic AvCast Episode 43 - My experience obtaining the A320 type rating.

Listener Mail.

The voicemail line at 347-MY-WINGS or 347-699-4647
Interviews From Sun N Fun Include:
Mike Stromer - Vice President, Customer Connections, JetBlue - Mike discusses how JetBlue is a leading contributor in assisting and inspiring young people to foster and interest and achieve their educational and aviation career goals.

Sergio - Tech Ops, JetBlue - Sergio discusses Aviation High School and the various internships with JetBlue. Sergio describes various educational programs supported by JetBlue including engineering , mechanic, and pilot internships.

Eric Poole- Captain and Manager University Programs, JetBlue - Eric discusses how to become involved in the University Gateway Program.

Andy Kozak - Manager Maintenance Training JetBlue - Andy discusses becoming an aircraft mechanic. He also describes the maintenance training program at JetBlue and how JetBlue inspires high schools students through assisting high school students build an airplane!

Cape Air Gateway Program - Crisa explains the benefits of the program, requirement, and how to apply. This is a very quick path to the airlines. We also speak with Sean who is a first Officer on the E190 for JetBlue. He is one of the first to complete the gateway program with Cape Air.

Craig Hildebrandt - Fleet Manager and A320 Captain JetBlue - Craig shares his passion for aviation and gives advice to those interested in a career as an airline captain.

Bonny Simi - JetBlue E190 Captain and VP Talent - Bonnie discusses the varied careers at an airline. She has words of encouragement for those looking at a career in aviation. She discusses the mentor program and hiring at JetBlue. Bonnie also talks about other  areas JetBlue reaches out to the community.

Jake and Julie two college students in the Gateway Program are truly inspriational and have some great advice for those looking to become a pilot and get involved with the Gateway program.

Al Spain - I had a chance meeting and some inspiring words from one of the founders of JetBlue.
For questions, comments, or suggestions please leave a voicemail:
347-MY-WINGS or
(347) 699-4647.
You can also reach us at Twitter, Facebook, by E-mail, or the contact form below.