Podcast: Play in new window | Download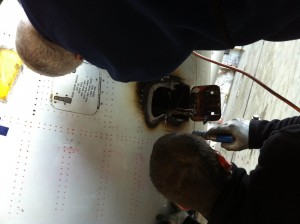 One of the best aspects of a career in aviation is that you are surrounded by people who are passionate about their vocation.  Today I have with me a person who is passionate about his career of designing repairs to airliners which have been damaged.
Did you know fixing a damaged airliner includes engineering the repair. From nicks, scratches, dents, and corrosion, to bird strikes, skin patches, and other major repairs to aircraft primary structure an engineer is involved in providing a solution. I have with me someone who is designs structural repairs to damaged jets and who is passionate about flying planes as a private pilot.
Today we are going to be speaking with Walter Chan a Designer of Structural repairs and truly passionate aviation enthusiast. Walter was referred to me from the host of Stuck Mic Avcast, Len Costa. Len said you really need to speak with Walter about aviation careers and his passion for all things aviation.
Walter and I Discuss:

His job as a structural engineer.
How he developed his passion for aviation and flying.
The type of engineers who work for his company.
Working conditions and some exciting places he visits while performing his job.
The educational requirements to become an engineer working on airliners.
Advice for those interested in becoming a repair design engineer.
His passion for flying and his journey as a private pilot.
His interest in flying airplanes for fun and someday to get paid as a pilot.
The challenges he has faced in completing his ratings.
Why he likes his current job and career.
Listener Questions:
Should I begin with a an undergraduate degree in engineering before pursuing a masters?
Is it important to have a pilot license to be a test flight engineer?
Links Mentioned In This Show:
ACP024 – Preparing For A Midlife Career Change; The Successful Part Time Flight Instructor.

ACP022 Designing Tomorrow's Airplanes With Flight Test Engineer Alan Lawless


Podcast: Play in new window | Download