Ever wonder what an "Objectionable" Airport is? Rob recently wrote in to ExpertAviator.com on our Questions page and asked what objectionable means on a sectional chart. Some airports have objectionable printed next to the airport symbol on the sectional chart just west of Chicago.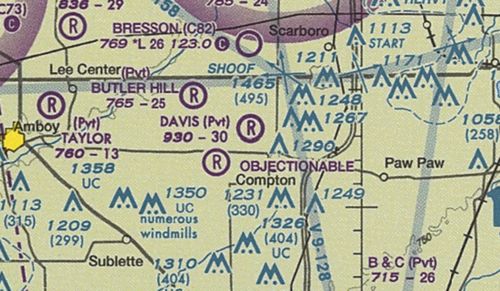 Thanks for the question Rob. When a person proposes to construct, alter, activate, or deactivate a civil or joint-use (civil/military) airport or to alter the status or use of such an airport they must comply with Part 157 of Code of Federal Regulations. These rules only apply to airports that are not required under federal agreement to have an approved airport layout plan with the FAA. Therefore, most of these airports will be privately owned airfields.
The air traffic office must conduct an airspace review to evaluate the effect on the safe and efficient utilization of airspace by aircraft and the effect that such proposals may have on the movement and control of air traffic and associated resources (personnel, facilities and equipment), and ATC program planning.
Upon completion of the airspace review, and the airspace has not passed the review process, the airspace is deemed objectionable. When this occurs the airport will be printed on the VFR chart with the words OBJECTIONABLE next to it.
Thanks again to Rob for submitting the question. If you have any questions concerning basic knowledge, aviation careers, or more complex topics please click the Ask Expert Aviator tab at the top of this page. We welcome all questions.
Safe Flying!
For More Information:
JO 7400.2J - Procedures for Handling Airspace Matters
PART 157—NOTICE OF CONSTRUCTION, ALTERATION, ACTIVATION, AND DEACTIVATION OF AIRPORTS