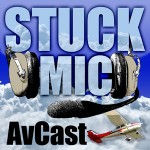 Podcast: Play in new window | Download
Today's show is an unusual one, more off the cuff, no topics, other than sharing a celebration of our first anniversary here at the Stuck Mic AvCast, stories of how each co-host got started in aviation, and reminiscing on our first year of podcasting, the experiences it's afforded us and even how it's changed our lives.
Pre-Flight
Learn more about the Dahl Fund, a scholarship for qualified students to who wish to attend an accredited commercial flight training school here in the United States. The fund was started on behalf of Sandy Dahl, the wife of airline pilot Jason Dahl who sadly lost his life on September 11, 2001 while flying as Captain on United Airlines Flight 93. Show your support for this scholarship with a donation or share it with your friends and family interested in a career in aviation!
Donate to our Virgin Galactic Space fund at StuckMicAvCast.com/support!
Cruise Flight
Nothing to see here folks. It's all in the first paragraph above

After Landing Checklist
~ Picks of The Week ~
No picks of the week for this episode.
Virgin Galactic Space Flight Fund
Thanks for listening to the Stuck Mic AvCast, a listener supported aviation podcast. We love publishing and delivering useful content and information for everyone! Please show your support with a $5 or $10 donation today and maybe we could one day fly in space!
Please submit your questions and feedback via blog comments, Twitter, Facebook, or email and we'll be sure to answer them on the air!
Listen to Episode 26 Below
Podcast: Play in new window | Download
CLICK HERE to play mobile friendly version
Subscribe to Our Enhanced Podcast Feed in iTunes
Subscribe to Our MP3 ONLY Podcast Feed
Direct your pod catcher to http://feeds.feedburner.com/StuckMicAvCastMP3
Or to subscribe in iTunes: