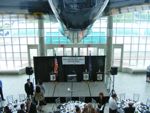 Welcome to a special feature of the Stuck Mic AvCast. My name is Carl Valeri and I will be your host today as I share with you some interviews and lectures from Long Island Air and Space Hall of Fame Induction Ceremony. This is a special event hosted by the Curtiss-Wright Corporation and the Cradle of Aviation Museum.
Audio clip: Adobe Flash Player (version 9 or above) is required to play this audio clip. Download the latest version here. You also need to have JavaScript enabled in your browser.
The Cradle Of Aviation Museum is Long Island's "Air And Space Museum". The museum has something for all ages including outstanding exhibits, activities for children, a collection of historic airplanes, a lunar excursion module, and a giant screen dome theatre. All those interested in aviation or space will surely enjoy this significant museum.
The Cradle of Aviation Museum is host of the annual Long Island Air and Space Hall Of Fame Induction Ceremony. I was fortunate to attend this wonderful event and am happy to share some of the interesting interviews and highlights from the ceremony.
The 2012 Inductees to the Long Island Air And Space Hall Of Fame Include:
Harriet Quimby – the first licensed female pilot and first woman to fly across the English Channel.
William Shepherd – Space Shuttle mission specialist, first commander of the international Space Station, and recipient of the Congressional Space Medal of Honor.
Jimmy Doolittle – A flight instructor and test pilot whose most significant contribution to aviation was the world's first flight by reference to instruments at Mitchel Field in 1929. His most famous feat was when he lead the attack on Tokyo in 1942 for which he won the Congressional Medal of Honor.
The following audio includes :
Interview with Jim Hughes – an enthusiastic docent shares his knowledge of the museum and Harriet Quimby.
Interview with Giacinta Bradley Koontz – Author The Harriet Quimby Scrapbook. Giacinta accepted the Hall of Fame Award on Harriet Quimby's behalf.
Lecture highlights from "Jimmy Doolittle… American Hero, Aviation Pioneer" presented by Jimmy Doolittle's granddaughter Jonna Doolittle Hoppes. Jonna accepted the The Hall of Fame Award on behalf of her grandfather. You can listen to the entire lecture at ExpertAviator.com.
Enjoy the show!
Virgin Galactic Space Flight Fund
Thanks for listening to the Stuck Mic AvCast, a listener supported aviation podcast. We love publishing and delivering useful content and information for everyone! Please show your support with a $5 or $10 donation today and maybe we could one day fly in space!
Please submit your questions and feedback via blog comments, Twitter, Facebook, or email and we'll be sure to answer them on the air!
Listen to Episode 25a Below
Audio clip: Adobe Flash Player (version 9 or above) is required to play this audio clip. Download the latest version here. You also need to have JavaScript enabled in your browser.
CLICK HERE to play mobile friendly version
Subscribe to Our Enhanced Podcast Feed in iTunes
Subscribe to Our MP3 ONLY Podcast Feed
Direct your pod catcher to http://feeds.feedburner.com/StuckMicAvCastMP3
Or to subscribe in iTunes: