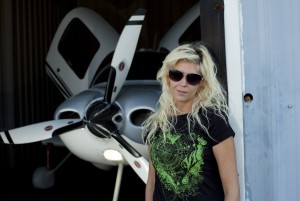 When I think aviation clothing I envision a t-shirt with a cockpit instrument and a caption of "watch your attitude". This type of clothing appeals to some aviation geeks like myself, but it does not appeal to the average person looking to purchase a shirt. That has changed with V1 Clothing
Jeff Garrone has created a stylish and at times edgy line of clothing with an aviation theme. Although many of his designs focus on a younger audience, some of his designs can be worn by those who enjoy a more subdued and traditional style such as myself.
Recently I meet with Jeff to discus his very creative line of aviation lifestyle clothing. While speaking with Jeff I discovered he also has an outstanding and stylish aviation flight bag that can be used by pilots and individuals looking for a day bag.
V1 Clothing is for those looking for stylish aviation clothing that can worn every day. The clothing and the flight bag he designed is made from quality materials and comes with a no hassles guarantee.
Enjoy the video review and demonstration of the Aviation Pro Pack.
For More Information :
Visit Our Sponsors: