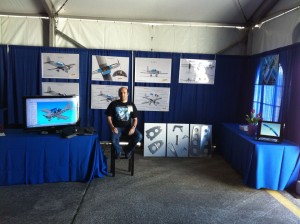 During the Sebring 2012 U.S. Sport Aviation Expo I had the pleasure of speaking with a wide variety of aircraft manufacturers. One aircraft that caught my eye is reminiscent of the golden age of flight and is designed by Haim Aviation.
To listen to to my interview with Thierry from Haim Aviation click the play button bellow or download the interview to your mobile friendly device by clicking here.
Audio clip: Adobe Flash Player (version 9 or above) is required to play this audio clip. Download the latest version here. You also need to have JavaScript enabled in your browser.
The following is the most recent press release from Haim Aviation with links to follow the progress of this prototype.
========================================================================
The Sam LS doesn't look like the rest of the LSA on the market: The Sam LS from Haim aviation has a funky 1930's retro look, complete with a greenhouse canopy and art deco wheel pants. The Sam LS has a retro silhouette but it's a modern design. It's a low wing, semi-monocoque structure using a 4130 steel protection cage, covered with aluminum. Designed to welcome tall persons, the cabin offers comfortable space to accommodate 6'.6'' pilots in a tandem configuration with the pilot in the front.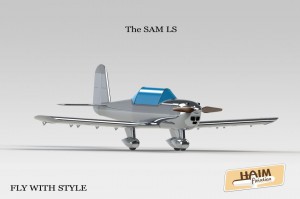 Tricycle and classical configurations are available. The Sam is powered by a Rotax 100hp, and features a glass cockpit with a 10'' Dynon skyview and back-up instruments. The Sam was designed to accept three different wings without any additional airframe modifications. This architecture offers the possibility to modify the aircraft's flight characteristics by simply changing the outboard wings.
We are currently building the prototype in our production facility at the Lachute airport in the Montreal region of Canada.
The Sam was designed compliant with LSA - ASTM standards and the Canadian AULA standards.
Its modularity makes the Sam perfectly adapted for leisure flights, long-distance flights as well as for short take-offs and landings.
The Sam LS will be unveiled at Oshkosh 2012. Introductory price of the ready to fly version will be USD135.000. The first 5 orders will receive more than $4,000 in additional equipment including leather interior, 600X6 tires, complete dual control system as well as a 7'' Dynon screen for the passenger.
Visit haim-aviation.com for more information
You can also follow the construction of the prototype on Facebook: http://www.facebook.com/pages/HAIM-Aviation-Inc/300315806685253
========================================================================
Visit Our Sponsors: