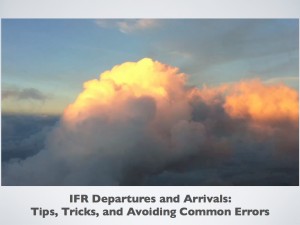 As a flight instructor and Captain with the airlines I noticed there are certain aspects of instrument flying which challenge pilots of all levels. I have written about these topics in past blog posts and have placed some of the top challenges into a presentation for the FAA Safety Team.
For a more extensive discussion and a list of reference materials on each topic I have included links to each section discussed in the presentation. Click the titles below to view the blog posts associated with each section of the presentation.
To Download the powerpoint presentation Click Here.
Advantages And Disadvantages of Obtaining Your Instrument Clearance In The Air After Departing VFR.

Departure Procedure Climb Gradient And Calculating Your Rate Of Climb

Alternate Filing With A WAAS Certified GPS

What Weather Forecasts Should I Use For My Destination And Alternate?

Should i declare minimum fuel if i have an alternate?

What is a descend via clearance?

Star standard terminal arrival procedures: altitudes explained.

Can I Use My GPS When An Arrival Requires DME?

Visit Our Sponsors: