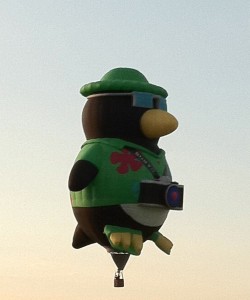 Episode 11 in the house! For those of you have been with us since the very beginning, you'll recall that Episode 1 was an interview Len conducted with test pilot Mark Jones Jr. We decided if was time to interview another interesting aviator and our special guest during Episode 11 was Patrick Smith of TailwindsOverFrederick.com. Tune in to learn all about getting started in hot air ballooning and what the transition was like from fixed wing to lighter than air!
Be sure to download the ENHANCED VERSION of this podcast episode through iTunes and enjoy the hot air balloon photo slideshow visible on your iPad, iPhone, or iPod touch while you listen to the show.
ANNOUNCEMENT – we now sell Stuck Mic AvCast women's and mens t-shirts, sweatshirts, magnets, buttons, & coffee mugs! Visit StuckMicAvCast.com/buy to shop for you favorite podcast apparel.
Pre-Flight

Cruise Flight

Tailwinds Over Frederick – hot air balloon enthusiast, and newly minted Commercial Lighter-Than-Air pilot Patrick Smith, joins us as our special guest to tell us how he caught the balloon bug and what it's like to experience the joys of flight from one burn to the next
After Landing Checklist
~ Picks of the Week ~

Victoria – Worlds Scariest Runways
Len – Right Seat Flying blog by Ron Klutts
Rick – iPhone App – Hot Air
Carl – Hot Air Balloon Insurance & NJ Festival of Ballooning
Tips: Never Expected, But Always Appreciated

Thanks for listening to the Stuck Mic AvCast – if you thought this episode had great content and was helpful, please show your support with a $5 or $10 donation today!
Tell Us What You Think

Please submit your questions and feedback via blog comments, Twitter, Facebook, or email and we'll be sure to answer them on the air!
Listen to Episode 11 Below

Audio clip: Adobe Flash Player (version 9 or above) is required to play this audio clip. Download the latest version here. You also need to have JavaScript enabled in your browser.
CLICK HERE to play mobile friendly version