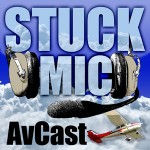 Our second LIVE broadcast in our behind the scenes look at recording Episode 10 of the Stuck Mic AvCast. Below, for your listening pleasure, is the final product with all the trimmings! Enjoy
Pre-Flight

Reminder – we have a "Classic" non-interactive MP3 ONLY version of the podcast: Stuck Mic AvCast MP3 Feed
Double digit episodes
Cruise Flight

Gusty wind techniques
Hard landing accidents
Planning an international flight
Required documents for international travel
Island hopping – Bahamas, Turks & Caicos
Skyvector online charts
Over water survival gear & tips
Understanding NOTAMs (Notices to Airmen)
IFR arrival procedures – Altitude & Airspeed Restrictions
After Landing Checklist

~ Picks of the Week ~

Rick – Abandoned & Little Known Airfields
Victoria – Hot Air Balloon rides: Tailwinds Over Frederick
Len – SPOT Connect Bluetooth satellite transmitter
Carl – What Just Flew By blog
Shout Out

A new women's aviation podcast called The Boxx Office has been released by Zyola T. Mix. Worth checking out!
Tips: Never Expected, But Always Appreciated
Thanks for listening to the Stuck Mic AvCast – if you thought this episode had great content and was helpful, please show your support with a $5 or $10 donation today!
Tell Us What You Think

Please submit your questions and feedback via blog comments, Twitter, Facebook, or email and we'll be sure to answer them on the air!
Listen to Episode 10 Below

Audio clip: Adobe Flash Player (version 9 or above) is required to play this audio clip. Download the latest version here. You also need to have JavaScript enabled in your browser.
Visit Our Sponsors: