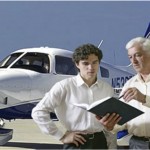 I haven't had a flight review in over ten years but I fly almost every day. Before you get on the phone to the local FSDO to report me for a violation of the regulations remember there are many activities that can substitute for a flight review.
I was reminded of this when my friend Rick Felty told me that he did well on his recent BFR. What he was referring to was what we used to call the Biennial Flight Review and has now been changed to the term Flight Review.
The FAA changed the name of the BFR to Flight Review but many still use the term BFR because old habits change slowly. The term Flight Review reflects a more accurate description of the type of recurrent training required for proficiency and promotes more frequent training.
The regulations under 61.56 require a flight review to have been accomplished in the 24 months prior to your acting as pilot in command. There are substitutions for the flight review which will make you a more competent pilot, learn more, and in some cases it will cost you less than a regular fight review. Before we go into that lets review what a flight review is.
The flight review must:

Be given in an aircraft for which that pilot is rated and by an authorized instructor.
Include logbook endorsed from an authorized instructor who gave the review certifying that the person has satisfactorily completed the review.
Include a minimum 1 hour of flight training.
Include a minimum 1 hour of ground training.
Include a review of the current general operating and flight rules of part 91.
Include a review of those maneuvers and procedures that, at the discretion of the person giving the review, are necessary for the pilot to demonstrate the safe exercise of the privileges of the pilot certificate.

Substitutions:

Glider pilots may substitute a minimum of three instructional flights in a glider, each of which includes a flight to traffic pattern altitude, in lieu of the 1 hour of flight training required.
Flight Instructors who have completed a renewal of a flight instructor certificate under the provisions in Sec. 61.197 need not accomplish the one hour of ground training.
How To Never Do A Flight Review Again

Additional training has proven to make you a safer and more competent pilot. The FAA recognizes this and allows us to substitute certain training for the flight review.
Substitutions for the flight review:
Be a student pilot undergoing training for a certificate and have a current solo endorsement as required by 61.87.
Pass a pilot proficiency check conducted by an examiner, an approved pilot check airman, or a U.S. Armed Force, for a pilot certificate, rating, or operating privilege need not accomplish the flight review.
Satisfactorily accomplished one or more phases of an FAA sponsored pilot proficiency award program.

Pilot Proficiency Check

Thinking of getting that instrument rating or excited about flying on the water and think sea planes look like fun. Once you get your new rating or pilot certificate this can substitute for the flight review. In addition you can use your passing the exam as credit towards your FAA Wings.
Not in the Wings program? It is simple to sign up for and is fun and educational. Read more about the Wings program below.
For those who must pass a proficiency check for the operator you work for, be it an airline or charter operation, you can substitute this check for a flight review. The proficiency check will also count towards the FAA Wings Program.
FAA Wings Program


The FAA Pilot Proficiency Program, or Wings program, is one of my favorite FAA sponsored activities. The FAA along with the aviation industry has realized recurrent training reduces the accident rate dramatically.
The Wings program includes both learning activities and flight tasks to be accomplished for credit towards obtaining one of the levels in the Wings program. After completing a level of the Wings program you may substitute this completion for the flight review.
It is easy to sign up for the program and is free. The FAA safety seminars count as credit towards obtaining a level of the Wings so if you have been participating in these seminars you should sign up so you can get credit.
I encourage pilots who fly charter or for the airlines to also become involved with the program especially if you are planning on getting back into general aviation. Your proficiency checks can be used as credit towards the Wings program.
To learn more about the FAA Wings program go to FAASafety.gov. And click on register. I will also be producing some instructional videos on how to use and navigate around FAASafety.gov.
Conclusion

The flight review is the minimum requirement set forth by the FAA. Using the substitutions for the flight review I have described above will make you a more proficient pilot, in some cases cost less, and most importantly you will be constantly learning.
At a minimum I hope you will sign on to the FAASafety.gov website and set up a profile with the Wings program. If you have any questions concerning the Wings program please feel free to contact me. Look for future blog posts on how to use the Wings program and their website.
Safe Flying!
For More Information:
AOPA's Pilot's Guide To The Flight Review. Click To Download PDF.

FAA Wings User Manual. Click To Download PDF.
FAA Guide To Conducting An Effective Flight Review. Click To Download PDF.
Visit our Sponsors: