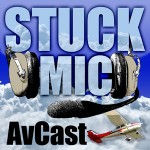 Victoria returns from her 2 week long adventure to obtain her Commercial Pilot certificate to join us on Episode 4. Tune in to hear about her intensive flight training, how she contracted a flight instructor on a daily rate, and flew her bottom off to reach that Commercial ticket on her 7th day of training.
Other topics include:
1. Navigating thunderstorms
2. Thunderstorm avoidance
3. What to expect if you've flown into a thunderstorm
4. Learning about gust fronts
5. The danger of downdrafts
6. Windshear and low level windshear awareness
7. Co-hosts stories of thunderstorm encounters
8. What are you waiting for? Listen below!
But wait, there's more! Listen in for our picks of the week where each of the co-hosts shares an aviation related product, service, and/or website that they've found to be interesting or helpful.
Rick – Martin-Baker Ejection Seat Test videos
Carl – Pappy Boyington Field, A Campaign to Honor a Hero DVD
Victoria – The Aviatrix Aerogram
Len – iPad2
PS – don't forget to click that "LIKE" button and share this episode with you other pilot friends!
Listen to the Show:
Audio clip: Adobe Flash Player (version 9 or above) is required to play this audio clip. Download the latest version here. You also need to have JavaScript enabled in your browser.
CLICK HERE to play in your media player
Visit Our Sponsors: