Blue skies with an occasional puffy white cloud and a slight breeze made this the perfect day to practice landings with my student training for his commercial pilot certificate. As my student taxied to the runway I opened my window and stuck my hand out scooping up the cool morning air. I kept thinking what a perfect day to fly. That would soon change.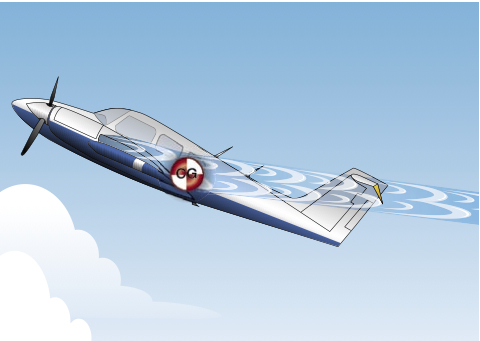 After doing his preflight checks my student taxied into position to practice a short field takeoff which requires a constant airspeed until we clear an obstacle. Most airports don't have many obstacles so we normally pretend there is a one hundred foot tall obstacle at the end of the runway.
Since the airport was surrounded by many tall trees I told my student to climb at best angle of climb until we clear the trees. Then we would accelerate to best rate of climb. Best angle of climb, or Vx, is the airspeed which will give us the greatest increase in altitude over a given distance. Best rate of climb, or Vy, is the airspeed which will produce the greatest increase in altitude over a period of time.
We taxied into position and he applied full power and accelerated quickly to rotation speed. Then he did the unexpected, he aggressively pulled back on the yoke pointing the nose skyward at a much higher pitch attitude than normal. It was fairly obvious we would stall if he kept the nose high but he seemed to do nothing.
This is when natural instinct conflicts with the pilots aeronautical knowledge. To go up the pilot wants to pull up but if he pulls up to far the aircraft will stall and then come down quickly. Therefore, I spend much of my time with my students teaching them that to gain airspeed and to reduce the angle of attack we must push the nose forward. A very difficult thing to do at low altitude but necessary.
My student succumbed to his natural instinct instead of his airmanship and pulled further back because we where not climbing. As I reached for the yoke the stall horn began blaring and the wing began to buffet. As I recovered from the incipient stall I told my student to look out in front of us at the trees. And then I calmly said we sometimes must point our nose at the trees to prevent ourselves from crashing into them. After gaining airspeed I then climbed out at best angle of climb speed and gave him back the controls.
After debriefing my student I realized he did not have much practice in recovering from stalls and incipient stalls. I explained to him that as a commercial pilot you must be better at understanding when you are approaching a stall and how to recover immediately. I only pushed the yoke forward slightly and we where flying again.
This is why with all my students I do many stalls and even more incipient stalls to get them in the habit of reducing the pitch attitude immediately when they feel a buffet or hear the stall horn. This is especially important for my commercial students who are moving onto the airlines and swept wing jets. Swept wing aircraft stall abruptly with few indications.
I have noticed a lack of understanding concerning stalls in the past few years. This is especially true with pilots who only want to get their ratings quickly and move up to the airlines as opposed to actually learning how to fly the plane properly. This is a training issue and can be solved through practice. Let's review some aspects of stalls and what you can do to prevent yourself from getting into this same situation no matter what type of aircraft you fly.
Stalls:
When we hear the word stall we normally think about our car engine quitting. This is what some of us thought the first time we heard our instructor tell us we where going to practice stalls. Who in there right mind would want to fly and stall the engine in the aircraft?
After some introductory ground school we learned that a stall has nothing to do with the engine but more to do with the aircraft. An aircraft stalls when it exceeds the critical angle of attack resulting in separation of airflow over the wing and a rapid decrease in lift. The point that the airflow no longer can produce enough lift to sustain level flight is the point at which the airplane stalls.
It is important to remember the aircraft is stalled but portions of the wing are still producing lift. The coefficient of lift increases as we increase our angle of attack and at the maximum coefficient of lift we are at the critical angle of attack. Any increase in the angle of attack will see a dramatic decrease in the coefficient of lift but we still have some lift. This can be seen in the diagram below.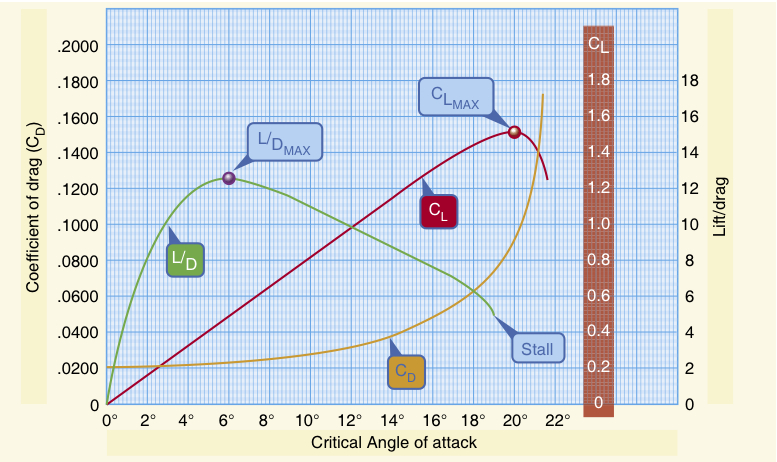 Most light aircraft will tend to pitch down when a stall has occurred due to the forward center of gravity. Since the tail is still effective and is not stalled we only need to push the control column forward slightly to recover from the stall.
Deep Stalls:
Some aircraft will enable us to continue to increase the angle of attack even after the wing has stalled. This is the case with most t-tail aircraft. As we pull back the stall becomes greater, or deeper, and eventually we may have trouble recovering. It might be impossible to recover if we pull the aircraft tail into the area behind the wing where the airflow is disrupted by the wing during the stall. This is a condition that has led to accidents in some light aircraft.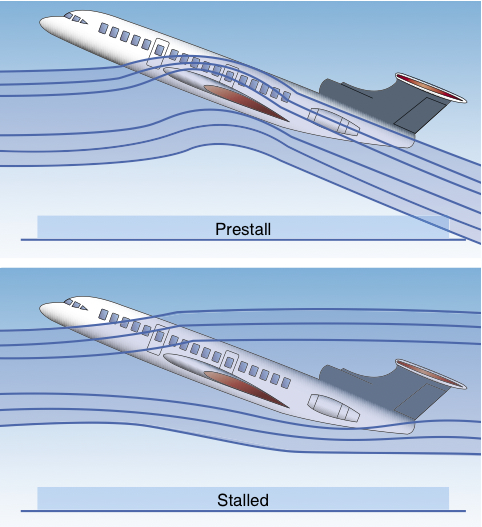 Much of my instruction was in a Piper Tomahawk which has a t-tail and has been known to get into unrecoverable stalls and spins. Due these accidents, stall strips were attached to the front of the wing to cause early airflow separation and a stall at a lower angle of attack. Larger t-tail aircraft such as airliners have a device called a stall shaker and pusher which prevents an actual stall and will reduce the angle of attack automatically without pilot input. The most important thing to remember when flying a large jet or any aircraft is to always be aware of your airspeed and react properly if you find yourself getting slow. This can be accomplished through training and practice.
Training:
I feel stall training and recovery is important in every aircraft you fly. To be able to recover from an inadvertent stall is very important. Stalls seem sudden when we are not paying attention but they normally develop gradually as we pull back on the flight controls. When an inadvertent stall occurs we rely on our past experience and training to recover properly.
I also feel it is just as important to learn how to prevent a stall because you cannot have a deep stall if you never stall the aircraft in the first place. That is why I practice many imminent stalls with all my students. I want them to have an immediate reaction of reducing the angle of attack any time they hear the stall horn or feel a buffet.
I will take my students up and increase the angle of attack until the stall horn or light comes on. Then we will reduce the back pressure slightly and the horn will go off. Then I will have the student apply enough back pressure on the yoke until it comes on. Next I will have them turn it off by reducing the back pressure. We will do this over and over again in many different configurations until the student automatically responds to the stall horn in the correct manner. It never correct to keep increasing the back pressure and the angle off attack.
Conclusion:
It is important to practice stalls and stall prevention at all levels of flying. Over the years it concerns me when I see pilots, especially commercial pilots, react incorrectly to an imminent stall. It is important that instructors teach all skill levels, from student to airline transport pilots, and validate the pilot has the skill and instinctive reaction when recovering from an imminent stall.
As you can see using the incorrect input of pulling back on the flight controls with great force can cause the nose of the aircraft, especially a t-tail aircraft, to reach a high angle of attack that it may cause a deep stall. If you feel uncomfortable with your ability to recover from a stall, you need to tell your instructor and review the procedures until the recovery becomes second nature. Do not be embarrassed to ask your instructor or check airman if you work for an airline to review the procedures with you. I"m sure they would be happy to help. Remember, a good pilot is always learning.
Safe Flying!
For More Information:
Stuck Mic AvCast Episode #2 : Air France 447, Deep Stalls, & LiveATC.net
USA Today: Air France crash calls for better pilot training, experts say.