Podcast: Play in new window | Download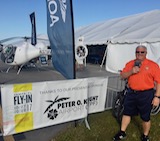 Welcome to a special edition of the podcast live from AOPA Fly-In 2017 in Tampa, Florida. Carl was on assignment in conjunction with Sun N Fun Radio. The Fly-In was a fun and informative event held at one of Carl's favorite airports Peter O. Knight airport.
This airport is where Carl began his aviation career and you will hear his excitement about returning to his roots. The weather was wonderful and as you will hear in the interviews everyone was excited to attend. This was two days and had over 339 airplanes and an estimated 5,478 attendees. If you could not attend the show or you did not get to visit all the exhibitors you can hear about what happened on this episode.
Preflight Checklist:
Sponsor: AviationCareersPodcast.com
Announcements:
Watch for upcoming events at Facebook.com/StuckMicAvcast
Cruise Flight:
Interviews From AOPA Fly-In Tampa, FL
Sun N Fun Kid Zone Exhibit, Preflight Pavilion, and what Sun N Fun has to offer all year long. - Greg Gibson
Professional Aviation Safety Specialist - Mike Perrone
Pilots N Paws - Dan Landry
Tavares - America's Seaplane City - Matt Elia, Aviation Manager
Mission Aviation Fellowship - Chuck Weatherstone
Sebring US Aviation Expo -Melissa Finger
Trade-A-Plane - Kelly Monday new publisher
Cessna Pilots Society
Drone Nerds
Gulf Coast Avionics - Levi VickersTeam Riggs Real Estate
Team Riggs Real Estate
AOPA You Can Fly Ambassador Jamie Beckett
Tampa Bay Aviation Association Daniel Slapo
After Landing Checklist:
Picks Of The Week:
No picks of the week since this is a live show. Check out past picks of the week at http://stuckmicavcast.com/picks-of-the-week/
Links Mentioned In The Podcast:
US Sport Aviation Expo
Tampa Bay Aviation Association
Video Of The Week: