Podcast: Play in new window | Download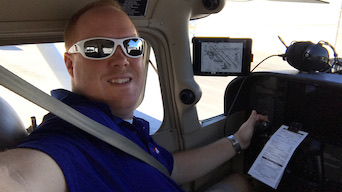 Accelerated Flight Training is one of our most requested topics for this podcast. In this episode, we discuss the pro's and con's of accelerated flight training plus receive an update from a friend of the podcast Dan Freeman. Dan is the Host of Accelerated Flight School Podcast where he describes his career change and training experience. Currently Dan is a flight attendant with a major airline and has many years of experience in the air and now in the cockpit.
Announcements:
I will be at the Region 9 NIFA Safecon event at Auburn University. Since I will be gone for the week we may not publish a podcast but stay tuned since we may have a special episode live from Auburn!
In This Episode, We Discuss Accelerated Flight Training as well as:
An update on Dan's progress since he was on the show in episode 140. The advantages of accelerated flight training
The disadvantages of accelerated flight training
What recruiters think
Finding a job after you finish with one of the programs
Working as a CFI at an accelerated school
How to find accelerated training in your area?
Pick Of the Week:
Learn more about College Flight Teams and the history of the competition.