Podcast: Play in new window | Download
Pre-Flight Checklist: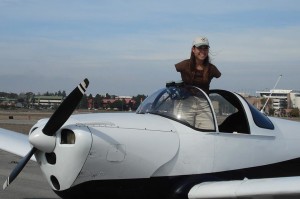 Carl is flying today, but Rick, Tom Frick, and Victoria are here to interview Jessica Cox and Nick Spark about Jessica's inspiring story.
Cruise Flight:
During Air Venture Victoria got to sneak away from her booth to view the movie "Right Footed," the documentary about Jessica's life as the first armless pilot
She has a black belt in Tae Kwon Do, graduated from college, and even drives a car. She is also a surfer and scuba diver.
Nick Spark is an aviation enthusiast and documentary filmmaker who previously made a documentary about Florence "Pancho" Barnes, a rival of Amelia Earhart.
Jessica got her start in aviation through Wright Flight, an organization introducing kids to aviation.
Jessica works with Handicap International fighting for the rights of the handicapped.
After Landing Checklist
~Picks of the Week~
No picks this week, as this is an interview show.
This episode is sponsored by AerospaceScholarships.Com