Podcast: Play in new window | Download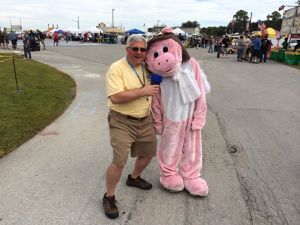 Pre-Flight Checklist
Carl and Eric reporting live from the When Pigs Fly South BBQ Challenge and Warbird Flyin weekend at Sun N Fun. You can listen to Sun N Fun Radio all year at LiveATC.net/SNF or visiting the Sun N Fun Website and clicking on the Sun N Fun Radio button. You can also listen to the individual interviews from this episode at Chats From The Deck.
A great place to listen to interviews with your favorite air show performers, historic aviation figures, and passionate aviators is by visiting Chats From The Deck. This wonderful resource is hosted by the volunteer chairman of Sun N Fun Radio Dave Shallbetter. Recordings include live interviews from the deck at Sun N Fun, interviews by volunteers reporting during the fly-in , and recordings from various live events throughout the year such as Aerospace Discovery.
The Flyin features an F-18 simulator, warbirds from Punta Gorda, lots of BBQ, motor cycles, classic cars, and a bounce house, fun and games!
Cruise Flight
Here are the interviews Carl conducted:
Jose Figueroa, Safety Programmer, Tampa FSDO, presenting the Wright Brothers Master Pilot Award, which is a 50 year safety record! You can see the honor roll at faasafety.gov
Jim from Warbirds of America local chapter, national organization, who fly retired military planes and raise money for veteran's organizations.
Lunar from flyjivefly.
Bill Johnston of Silver Wings, an aviation fraternity.
Jim Frees, one of the BBQ challenge judges.
Lights Leenhouts President and CEO of Sun N Fun.
Rob Williams, Executive Director Aerospace Discovery Center for Excellence at Sun N Fun.
John Iskara, Education Director for Aerospace Center for Excellence.
Neil Glazer, owner of Pilot Mall. Also checkout Aviation Custom Carts.
After Landing Checklist
~Picks of the Week~
No picks this week since the show is at the event.
Sun N Fun Radio is sponsored by: