Podcast: Play in new window | Download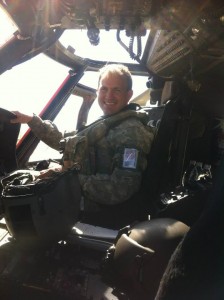 The job of helicopter pilot is exciting, rewarding, and of great benefit to our society. I have had a long interest in flying helicopters and have only a few hours but can tell you the most amazing thing in the world is being able to hover above the ground as if you are floating in the air. It is truly magical. Today I have with me someone who enjoys this "magical" experience as part of his job.
Captain Ross McClure is a United States Army helicopter pilot and is going to help us understand what it is like to be a carer Army Helicopter pilot. Captain McClure is second in command of the Multinational Force and Observers (MFO) Aviation Company. His job includes planning, coordinating, and directing employment of aviation assets to support the Egypt-Israeli peace treaty, civilian observer units and distinguished visitors. His job entails assisting the Unit Commander in the management of logistics, administration and operation of over ninety million dollars in assets and over fifty personnel including aviation aircraft and component repairmen, rotorcraft aviators, flight operations specialists, fuel supply technicians and technical supply specialists.
We discuss:
What type of flying he is doing now.
What is the mission of the MFO ?
What flying jobs are available in the Army.
How to become an Army Aviator and "Low Flyer".
Advice on what you should do now if you want to join the Army and become a helicopter pilot.
What other jobs are there in the Army related to Aviation?
How Unmanned Systems will affect the job opportunities for pilots.
Any websites people can view now to get more information about Army jobs.
Links:
ACP021: Adventures Of A Police Helicopter Pilot; Interview with Darryl J. Kimball
ACP039 – Coast Guard Helicopter Pilot Steven Vigus
Multinational Force & Observers
ACP020 Land That Job: Successful Interviews and Resumes with Amanda Myers of JSfirm.com
Scholarship Of The Week:
Bauer-Bisgeier Memorial Scholarship