"You are not in America" was the last thing I heard the Canadian Air Transport Authority Screening Officer tell the upset passenger as they pulled her from the line.  Viewing the lady's red face I began reflecting on why she felt the rules of her country applied in Canada.The four countries within 100 miles of the Continental United States all have different rules and regulations. Many times we don't feel we are flying internationally because of the close proximity of these countries but rest assured they all have their own operating rules and regulations. So before you decide to fly to any of these countries or through their airspace make sure you understand the rules and regulations.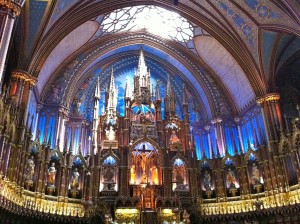 Notre-Dame Basilica of Montreal
Canada is a diverse and beautiful country which offers some amazing and challenging places to fly into. Canada offers much to explore including the rugged islands of the Atlantic, quaint cities perched upon flowing rivers, pristine wilderness, and Pacific coastal communities along spectacular mountain ranges.
I encourage you to flying into Canada and enjoy the wonderful sites and people of this terrific country. Before you fly to Canada there are some things you should know. The following is an overview of some information you will need when planning a trip to Canada.
Canadian Aviation Rules
Canada is a member state of the International Civil Aviation Association (ICAO) and many of their rules reflect the ICAO standards.  Some interesting operating rules that differ between Canada and the United States include:
While operating within 10 miles and below 3000 feet AGL of a controlled aerodrome you cannot exceed 200 knots indicated airspeed.
"Descend when ready" is used instead of "at pilots discretion".
Holding speed differ for propeller driven aircraft and turbojet aircraft.
While descending on a STAR (Standard Terminal Arrival Procedure) and given a lower altitude you must comply with the charted altitudes unless otherwise cancelled by ATC (Air Traffic Control).
As you can  see there are subtle but important differences when flying in Canadian Airspace. One that can be confusing is descents along a STAR.  This is much different then the descent via clearance in the United States which I discussed in a previous article. So make sure you comply with the Canadian rules which can be found in the Transport Canada AIM.
Similar to the United States, the Canadian Aviation Regulations (CARs) require the pilot-in-command of an aircraft to be familiar with the available information that is appropriate to the intended flight. Before any flight into a foreign country you should become familiar with the operating rules especially the differences between the two countries.
To review the Canadian Aviation Regulations click on the following link:
http://www.tc.gc.ca/eng/civilaviation/regserv/cars/menu.htm
I also recommend your reading the Transport Canada Aeronautical Information Manual. Like our AIM there is some very valuable information and operating procedures.  You can find the TC AIM at:
http://www.tc.gc.ca/eng/civilaviation/publications/tp14371-menu-3092.htm
Pilots
Pilots must carry a valid pilot certificate, valid medical certificate, proof of citizenship (passport, birth certificate and photo ID).  For more information visit the Canada Border Services Agency (CBSA) at  www.cbsa-asfc.gc.ca.
Certificates that meet the International Civil Aviation Organization (ICAO) standards are valid for operating aircraft between the U.S. and Canada. Therefore, the recreational and sport pilot certificates are not recognized in Canada.
Aircraft Requirements
Every aircraft must have: Certificate of Registration, Weight and Balance Information, Flight Authority, Proof of Liability, and Insurance Operating Limitations.
The CARs require pilots to carry proof of liability insurance on board their aircraft when operating in Canadian airspace. This applies to all aircraft, including private, amateur-built and ultralight aircraft. The type of coverage is based on the aircraft's gross takeoff weight per CAR 606.02.
Aircraft are to be equipped with a Mode C transponder when operating in Canadian Class A, B, C, D and E airspace, as specified in the DAH (TP 1820E), which is available from NAV CANADA (CAR 601.03).
Satellite processing of distress signals on 121.5 MHz and 243 MHz was terminated on February 1, 2009. The satellites now only monitor transmitters operating on 406 MHz. ELTs are required for most general aviation aircraft (CAR 605.38).
Flight Planning
While in Canada for weather briefings, NOTAMs, and assistance filing a flight plan, contact NAV CANADA, which operates eight Flight Information Centres (FIC) across Canada. They have various toll free numbers which operate in Canada with the general number being 1-866-WXBRIEF.
The Canadian Aviation Weather Website includes textual and graphical weather products and is a great tool for flight planning. Additionally you can get download airport diagrams and links to U.S. weather.
Charts
Nav Canada Charts are available from the Nav Canada Website but are also available from Aircraft Spruce and Sporty's Pilot shop.  Order your charts early if you are going to Canada. A few of the charts are available for free as digital download from Nav Canada but many of the enroute and VFR charts are best purchased in the United States for quick delivery.
Canada Border Services Agency (CBSA)
Flights from the U.S. to Canada must land at a CBSA authorized airport of entry (AOE). A listing of AOEs may be found on the CBSA Web site. Airport Of Entries are listed in the Canadian Flight Supplement  and Canadian Water Aerodrome Supplement which can be ordered online from the same vendors selling charts mentioned above.
Pilots must make their own customs arrangements by calling the CBSA at least 2 hours, but not more than 48 hours, prior to their arrival in Canada. The CBSA must be notified of any changes to the estimated time of arrival (ETA) or point of arrival, or of any other changes.All passengers on board the aircraft must have photo identification and proof of citizenship.
• CANPASS is a program offered by the CBSA for private aircraft entry into Canada. This is a great program for those flying often to Canada.  Benefits of having your aircraft in the CANPASS system:
Land at any airport of entry (AOE) in Canada
Land at an AOE any time the airport is open for landing, regardless of the hours of business of the local CBSA office.
Land at a CANPASS-only airport, which may be nearer to your destination.
Receive expedited clearance.
Proceed to the final destination if there is no CBSA officer waiting for the aircraft by the reported time of arrival, without the pilot having to make a second call to the CBSA after landing.
The requirements and applications forms for CANPASS can be obtained from their website. This is a great program for those who fly to Canada often in private aircraft.
United States Regulations
There are rules and regulations you must follow on your return to the United States including completing an eAPIS (Electronic Advance Passenger Information System). FltPlan.com makes it easy for you to fill out all of the forms you will need including the General Decleration and Manafest. For an overview watch the video explaining how to enter the information into FltPlan.com:
The United States requires aircraft to be equipped with a Mode A and Mode C transponder to cross the U.S. border in either direction (inbound or outbound). If you do not have a transponder, you must contact the U.S. Transportation Security Agency (TSA) for a waiver.
Conclusion
There are many regulations we must comply with when flying to and from Canada including knowing the flight rules in both countries.  I suggest the first time you do fly to Canada review all the information I provided in this article and then get some practical experience. Find a knowledgeable and experienced pilot or flight instructor and take a flight across the border and land in Canada. I think you will find it to be a fun and educational experience.
Safe Flying!
For More Information:
Flying To Canada What You Should Know by Transport Canada
Canadian Air Transport Security Authority
Canadian Aviation Regulations (CAR)
Transport Canada Aeronautical Information Manual (TC AIM)